We are in the last quarter, so it is time to look back to the third quarter of 2020. The development team has worked hard again and many improvements, updates and new functionalities have been added to the packaging platform TrackOnline. The most important updates are described below.
New transaction overview
Our customers have already been informed of this update by e-mail. The transaction overview has been improved for all TrackOnline licenses, where the filters have been moved from the top to the left, as you can see in the image below. It is also possible to hide the filters so that the overview is larger. The filters are now displayed more discrete and the overview looks calmer. Furthermore, additional filtering features have been added to increase usability and retrieval of the desired results.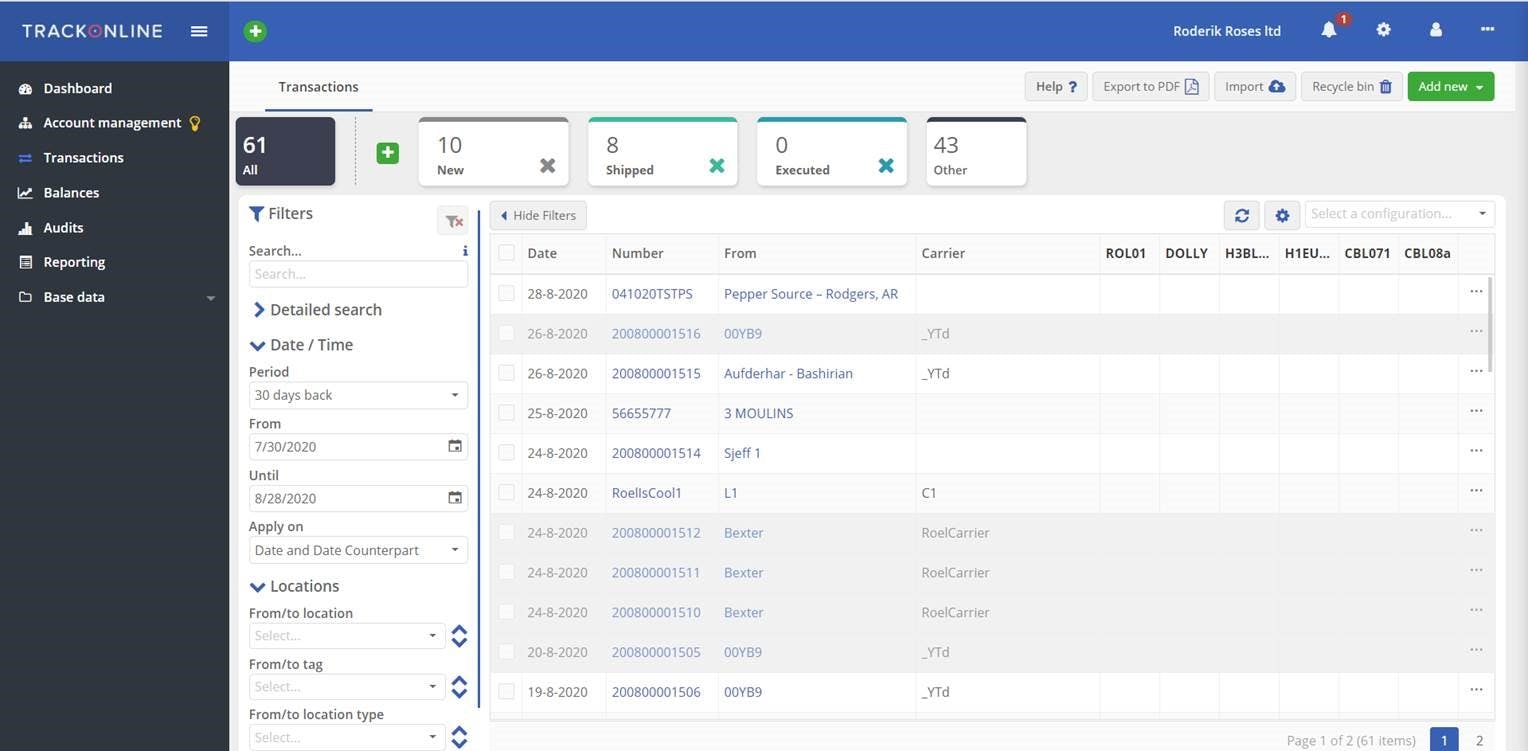 e-CMR
A new functionality for the Pro+ licenses and higher has been added to work with e-CMR. This enables data to be exchanged between the TrackOnline and Transfollow systems when processing transactions. So from now on you can transfer a transaction to an e-CMR using the TrackOnline mobile application. To sign off, simply click on the button in the TrackOnline app 'Open e-CMR' and you will be redirected to the Transfollow app. Here you can sign off packaging for collection and delivery.
Create, share and use rental contracts
The development team is developing a new functionality where you can create, share and use rental contracts. This is an important functionality of Avalanche that is now being implemented in TrackOnline. This functionality will soon be available for TrackOnline Pro+ customers and we will keep you informed via our LinkedIn and/or Twitter page.
Fees configuration
It is now possible to configure fees. In addition, the use of the configured fees in transactions has been extended to the entire application, both in the web application and in the mobile application, this functionality is available for TrackOnline with a Pro+ license or higher!
Additional import possibilities
The possibilities for importing data to TrackOnline have been expanded. Among other things it is now possible to import transactions using Excel. This update is available starting from the TrackOnline Pro license.
This was just a selection of all new updates and functionalities of the third quarter. Would you like to stay up to date with the latest developments of TrackOnline? Then follow our LinkedIn page and sign up for the newsletter below. We are also always open to ideas and tips for our packaging registration platform TrackOnline. Do you have any tips or feedback? Feel free to contact us!