TrackOnline, the digital packaging platform, with which we give the floriculture chain the opportunity to collaborate digitally. A Software as a service (Saas) that we are constantly optimizing. That is why we have the latest developments here for you.
We are constantly developing. That's a good thing, because we want to remain innovative. To continue to serve our customers as well as possible so that they work with the latest updated version of the software. And as we wrote earlier, software use in the Netherlands is increasing. TrackOnline is such a Software as a Service product, with which we want to relieve various sectors such as floriculture, by offering a grip on logistics processes. Not only grip, but also saving time and money.
Process management
A functionality that we have added in TrackOnline PRO (Plus) and Enterprise is 'Process Management'. With this you can arrange your Life Cycle Management. The Process Management functionality can be applied to the Transaction type Shipping. Here you can indicate per process who can do what in which step.
For example, when you create a transaction, the shipment goes through several steps: sent, confirmed, refused and processed. Amongst other things, you can indicate who can change a status.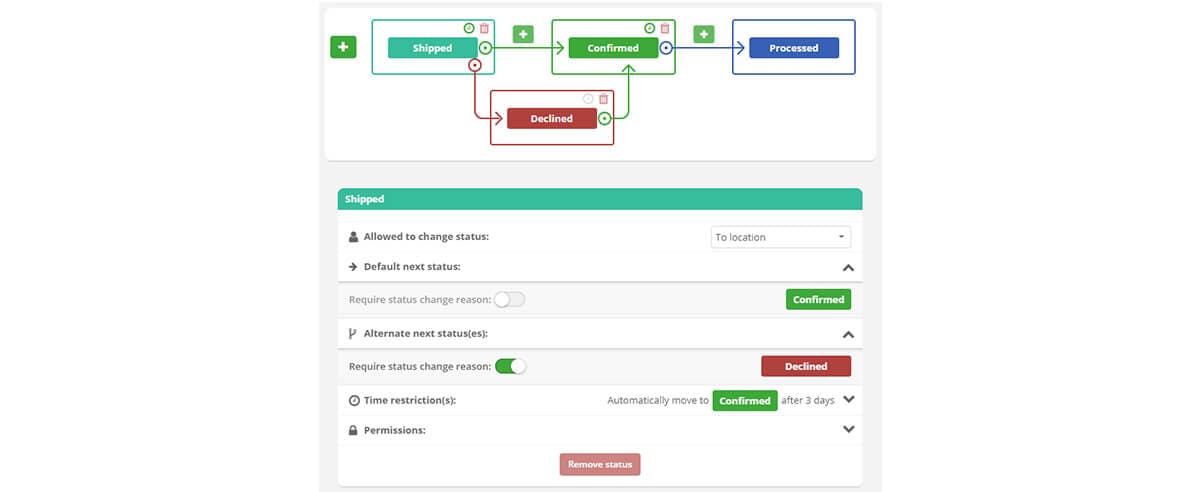 So, when a grower has his plants transported to a retailer. His plants are transported with Tag5 Containers, by a transporter. The grower enters in TrackOnline that 200 containers are transported to the retailer. The retailer can view this with TrackOnline and accept or reject it. Once the transaction has been accepted, the carrier can also see this.
Process Management combined with Business Rules (automated / conditioned activities) provides a strong combination of control and control of everything that happens within the TrackOnline administration. It is a careful step towards the realization of our Intelligent Bookkeeping vision, a system in which many processes can be handled automatically based on historical patterns and adaptive frameworks.
In short: more automation, fewer errors.
Business Rules
A new Business Rules function has been added, available for TrackOnline PRO (Plus) and Enterprise. With business rules, an automatic e-mail is sent to the customer at a certain step in the process. You can set this up yourself.
For example, when a shipment is on its way, a customer will receive an email.
German language
We have added the German language. This language can now be selected in your user profile.
Fast, faster, fastest
We have been busy optimizing a number of processes in TrackOnline. That is why the software now works even faster!
Item recognition
Item configuration has been added for reporting and transactions. Items are remembered here per user.
Balance per location
You can now add a widget to the dashboard that keeps track of the location. This widget also shows the value per item.
Format
There are also changes in the TrackOnline look. For example, the image of the login screen has been adjusted. And your logo is now visible on the e-mail template.
If you want to stay informed about the developments of TrackOnline, sign up for the newsletter. Do you want something else to be added to TrackOnline or do you have questions about the latest developments? Contact us without obligation.