For poolers, logistics service providers, 3PL and 4PL companies, the management of logistics assets and the automation of these business processes is an important issue. Logistical assets management in the pooling sector is achieved with RTI management software. When you focus on managing the packaging pool as a pooling company, you are responsible for your client's logistical returnable assets. This allows your client to focus on their core business while you manage the packaging pool by supplying the correct quantities, making sure broken packaging items are returned and guaranteeing a balanced packaging administration. Read here how you can use packaging software to manage the packaging pool to optimally serve your customer.
Register logistics resources
Logistical assets in a packaging pool can consist of various types, from CC containers, Danish carts and CBL crates to plastic pallets and trolleys. Diversity is not an obstacle in managing this packaging pool. Various logistical returnable assets can be registered in an online packaging platform, such as TrackOnline, both by type and by item. By placing them under a specific customer or location, you know exactly which and how many the packaging pool consists of. You personally can view the exact location of the logistical returnable assets by using the interactive map in your dashboard. At a glance you can see the numbers and locations. A dashboard in TrackOnline can be arranged as you wish, so you and the management can immediately see all relevant information. Some examples of the widgets in the dashboard are the map, a top 10 balance per item and/or per location, running balances over a certain period and unique items.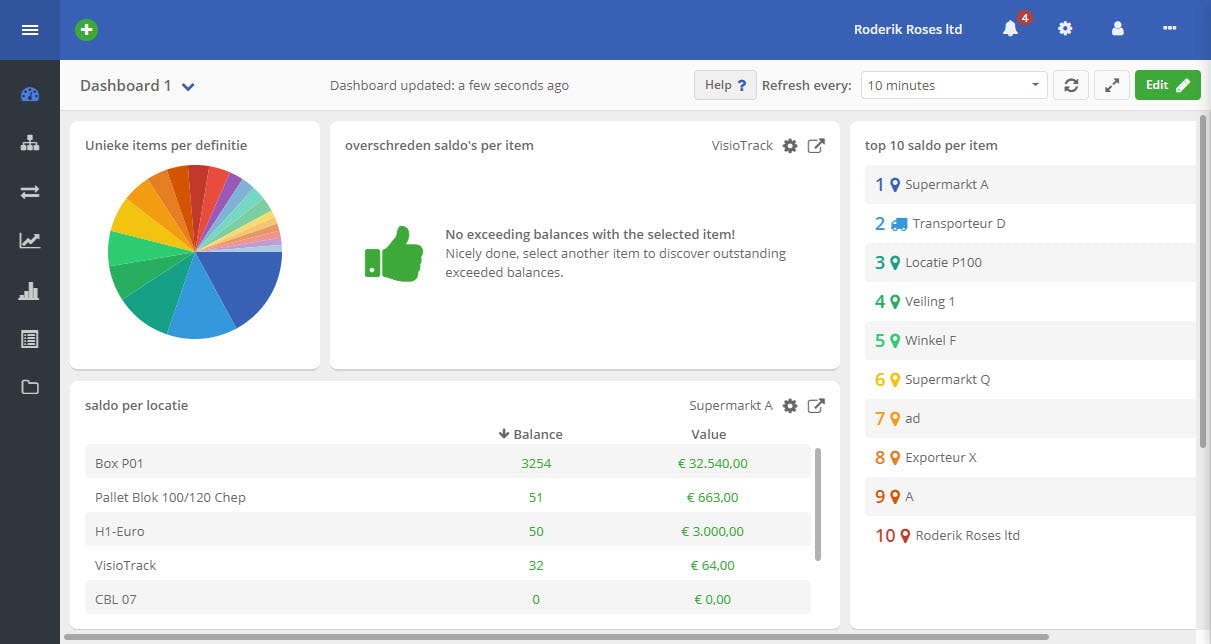 Take effective action with real-time data
Logistics resources are used by your customer to deliver their products on time and in one piece. Knowing how many logistics resources are in stock or how many are at each location is crucial. You want to prevent a shortage at all times, for instance due to loss or damage. By building in a check at each step and registering this online, you are always informed with real-time data. This way you can repair damaged logistic assets and replenish logistic assets when some are lost or when more load carriers are needed. Besides damage or theft, it also happens that load carriers are returned dirty or that, due to hygiene regulations, the load carriers must be deployed clean. Many poolers offer a cleaning service and usually this is an integrated service. In the online registration platform TrackOnline you can monitor in real-time where the load carriers are. If there are some in the cleaning line and you need a number of plastic pallets at that moment, you can see this immediately. Thanks to 24/7 insight into the flow of packaging, you can take quick and effective action as a pooler.
Information at management level
The entire management process of returnable transport items can be managed digitally with TrackOnline. This allows you to provide an optimal service to your customers. The collaboration with customers is significantly improved by accurate and real-time data. Moreover, sharing this data has never been easier, because your clients can view it online with a free TrackOnline CONNECT account. Moreover, management is better provided with information that is collected from the application through smart solutions, says Bas Thuijs, financial director of HB, the specialist in handling Returnable Transport Items (RTIs) in the supply chain of the food industry. Read here why HB chooses TrackOnline.
Logistic assets managed automatically
The management of logistic returnable assets can be digitized, but a part of the process can also be automated. By connecting TrackOnline to an ERP, WMS or TMS system, data can be collected and the systems automatically share information with each other. In this way you can manage the entire life cycle of your logistic returnable assets in TrackOnline. In TrackOnline we call this Process Management and by combining this with business rules you have control over everything that happens in your TrackOnline administration. Processes related to your logistic returnable assets are handled automatically based on historical patterns and adaptive frameworks. Read more about packaging solutions for the pooling sector here.
What does TrackOnline do for your business?
Manage the entire pool of logistic returnable assets by working more efficiently and easily with TrackOnline. Try it yourself or contact one of our experts, they will give you a customized demo or visit you to discuss the possibilities of TrackOnline.