Which trends and developments will play an important role in the field of logistics and returnable transport items in 2021? There are a number of clear trends that can be taken into account and addressed in the company's strategy this year. We have listed them below.
Trend 1: returnable transport items
A trend that will continue in 2021 is the use of returnable transport items (RTI's), also called: reusable packaging. In 2020, we already wrote about single-use packaging versus reusable packaging. In recent years, the use of reusable packaging in logistics has only increased. It is ultimately the solution to make logistics resources in the chain greener and more sustainable. Companies that do not yet use reusable packaging are lagging behind and will eventually adopt it. It is not without reason that the number of units of reusable transport packaging sold by RAJA in the Benelux shows an upward trend here.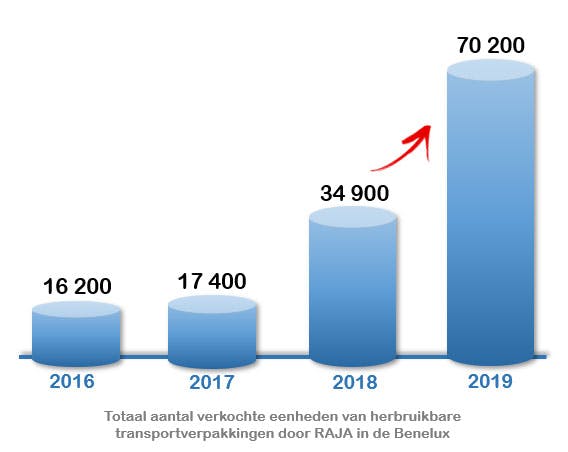 Reusable packaging has its advantages. Reusable packaging has a higher purchase price than, for example, single-use pallets. A reusable pallet will last longer and pay for itself within a few times, but remains a larger investment. The higher purchase price makes it even more important to manage these packaging flows and to have insight into where the reusable packaging stands.
Trend 2: circular economy
Circular economy is not for tomorrow or the future, it is something we have to start now or continue with further. It is a fact that we more and more often hear about circular economy around us. This is good to raise awareness among the population about the importance of a circular economy. In addition, the Dutch government aims for a circular economy in 2050 and by 2030 the use of raw materials must be reduced by half. This means that products and materials are reused as much as possible and that there is a minimum amount of waste.
A circular economy means that raw materials retain their value through sustainable use or reuse. As far as packaging is concerned, this means that your packaging continues to be used in an infinite cycle. Your packaging must therefore be returned, repaired and washed, so that your packaging is used again and again.
Trend 3: Insight into data
Transparency and insight (in data) are two words that have a lot to do with each other in logistics. For a long time there has been a trend that people are in need of transparency in the chain. A transparent chain ensures a good overview in the chain and clarity about who is responsible for the goods at all times. Different organizations involved in the chain often keep their own administration, in different systems, without this being transparent to other parties. An essay by Glastuinbouw 2020 shows that by exchanging knowledge between chain partners, an enormous gain can be achieved in terms of logistic efficiency improvements and turnover increases by adapting to demand. Cloud-based software is the solution for a transparent chain and supply chain. By exchanging data between chain partners on the same platform, the collaboration will become more efficient and the chain will become more transparent.
Trend 4: Smarter technologies
It's not very surprising anymore, but in 2021 digitization is also a trend. Although society is already a long way from digitization, many companies and especially business processes are still lagging behind. In 2021, the trend in the field of digitization will mainly be towards smarter technologies. Some of these smart technologies are Internet of Things, Blockchain and Artificial Intelligence. Organizations are also investing more and more in smart software and systems in logistics. By making use of smart technologies, you can often achieve efficiency improvements in your organization and ultimately generate cost benefits.
These are the predicted trends regarding returnable transport items for 2021. In short, it is important to only purchase reusable packaging from now on, so that you reduce your impact on the environment. Make sure you have a packaging registration system to keep track of where the RTI's are, so you can continue to use your packaging in a circular system. Use smart technologies and systems such as Internet of Things and rfid tags. Share this information with your chain partners so it is clear to everyone where the RTI's are located and who is responsible. With the cloud-based platform TrackOnline you can respond to these trends and 2021 will be a good year! Would you like more information about TrackOnline? Please contact us via e-mail or the contact form.